Seperti kata pepatah, "Bon dan Hari Tahun Baru", Obon sama pentingnya bagi orang Jepang seperti Hari Tahun Baru. Ada berbagai acara dan kebiasaan yang berlangsung selama Obon. Acara-acara ini bervariasi dari satu daerah ke daerah lain, tetapi api penyambutan dan api pelepasan sering diadakan dalam beberapa bentuk atau lainnya.
Pada halaman ini, kami akan memperkenalkan api penyambutan dan api pelepasan Obon.
Apa yang dimaksud dengan api penyambutan (Okuribi) dan api pelepasan (Mukaebi) selama Obon?
Obon adalah acara untuk mengabadikan arwah leluhur, dan meskipun berbeda dari satu daerah ke daerah lain, Obon diadakan terutama pada hari-hari berikut.
15 Agustus dari kalender baru (Obon dari kalender lunar)
15 Juli dari kalender baru
15 Agustus dalam kalender lunar (Festival Lunar Bon)
Saat ini, Obon biasanya diadakan pada tanggal 15 Agustus tahun kalender baru. Selama periode Obon ini, arwah leluhur disambut ke dalam rumah dan upacara peringatan diadakan. Api penyambutan dan pengusiran digunakan untuk menandai perjalanan roh leluhur antara rumah dan kuburan mereka.
Izinkan saya memberi Anda satu contoh spesifik tentang penyambutan dan pengutusan api.
Ketika Anda mengunjungi sebuah kuburan, Anda menyalakan api di depan kuburan. Ini adalah api penyambutan, yang Anda pindahkan ke lentera dan pulang ke rumah, dengan berhati-hati untuk tidak memadamkannya. Arwah para leluhur juga pulang ke rumah dengan api ini.
Setelah kembali ke rumah, api penyambutan dipindahkan ke rak Festival Bon atau altar Buddha. Ketika Obon selesai, api dari altar Buddha dipindahkan ke lentera, dan arwah para leluhur dikirim ke kuburan mereka. Setelah mengunjungi makam, kami memadamkan api dan kembali ke rumah.
Ketika saya masih kecil, saya biasa melakukan upacara penyambutan dan pengusiran arwah. Saya ingat nenek saya mengatakan kepada saya bahwa leluhur saya akan mengikuti saya ke dan dari kuburan, dan saya terlalu takut untuk melihat ke belakang saya.
Namun, ritual penyambutan dan pengantaran seperti itu akan sulit dilakukan dalam praktiknya, kecuali jika kuburan dan rumah saling berdekatan. Jadi, mari kita lihat ritual penyambutan dan pengantaran secara umum.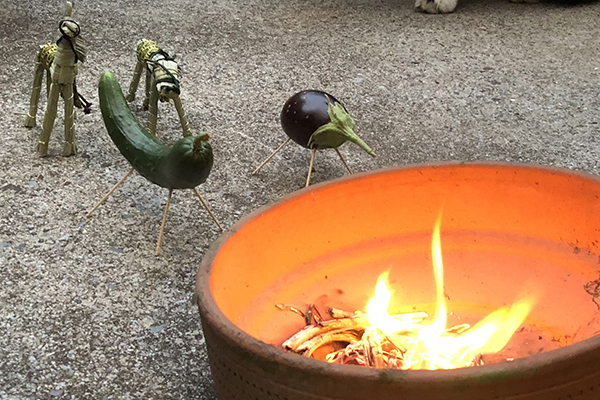 Bagaimana penyambutan dan pelepasan kebakaran pada umumnya dilakukan?
Api penyambutan umumnya diadakan pada malam hari tanggal 13, dan api pelepasan pada malam hari tanggal 16 atau 15. Pada hari-hari ini, api penyambutan dan api pelepasan dinyalakan di depan rumah.
Pembakaran sebenarnya dilakukan dengan tanaman yang mudah terbakar seperti ogara dan makomo. Tanaman-tanaman ini dijual di supermarket, toko kelontong, dan toko bunga selama musim Obon.
Selain itu, biasanya menggunakan benda seperti papan tanpa glasir yang disebut "horoku" untuk membakar tanaman ini. Namun, karena ogara dan jerami berserakan ketika angin bertiup, yang terbaik adalah membakarnya dengan piring yang sedikit lebih dalam atau pot bunga tanpa glasir, jika tersedia.
Meskipun penyambutan api dan pemadaman api dilakukan di setiap rumah tangga seperti yang dijelaskan di atas, ada kasus di mana sulit untuk melakukannya. Hal ini karena dalam kondisi perumahan saat ini, sulit untuk menangani kebakaran di pintu masuk apartemen.
Dalam kasus seperti itu, lentera Bon Festival dinyalakan sebagai pengganti api penyambutan dan pengantaran. Saat ini, tersedia lilin bertenaga baterai dan lentera Bon Festival tanpa kabel bertenaga baterai, sehingga lebih aman untuk tidak menggunakan api.
Tentang Bon Chochin
Festival Bon pertama setelah kematian seseorang disebut Shinbon (Niibon, Arabon) atau Hatsubon (Hatsubon, Uibon).
Dalam hal ini, Bon Chochin putih polos digunakan.
Penyambutan lainnya dan pemadaman kebakaran
Ada penyambutan skala besar dan api unggun yang diadakan di wilayah ini. Banyak di antaranya yang berskala besar dan kadang-kadang disebut "api unggun gunung" atau "api unggun samudra".
Api unggun gunung yang paling terkenal adalah Api Unggun Gozan di Kyoto dan Api Unggun Koenzan Daimonji di Nara. Api unggun yang paling terkenal di laut adalah Eiheiji Daitonro Nagashi di Fukui dan Seirei Nagashi di Nagasaki.
Jika Anda akan menghabiskan musim panas di Jepang, Anda harus merasakan api unggun untuk melepas dan menyambut kepulangan Anda.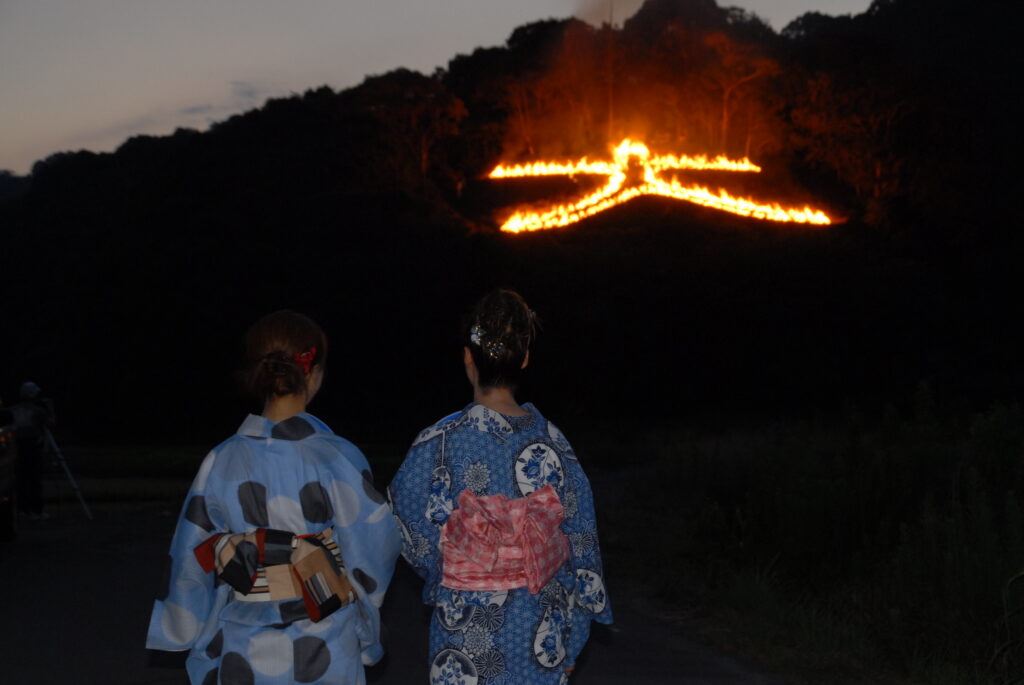 Kesimpulan
Obon adalah acara Buddhis yang diadakan dari tanggal 13 hingga 15 Juli, atau pada bulan Agustus, untuk mempersembahkan persembahan kepada arwah leluhur. Karena dikatakan bahwa roh-roh kembali selama waktu ini, api penyambutan dinyalakan di pintu masuk rumah, lentera dinyalakan di dalam ruangan untuk mencegah mereka tersesat, altar Buddha dibersihkan, dan persembahan sayuran, buah-buahan, dan barang-barang lainnya diletakkan.
Ketika Obon berakhir, para roh dikirim kembali ke kampung halaman mereka. Ini disebut "Seirei Sending". Api unggun dibangun di depan gerbang dan persembahan dilarung ke sungai atau laut.
Ada berbagai bentuk dan ukuran api unggun penyambutan dan pelepasan selama Obon.
Api penyambutan dan pelepasan di rumah-rumah biasa dinyalakan dengan membakar ogara dan bahan-bahan lain di depan rumah. o Jika sulit untuk menggunakan api, itu dilakukan di pintu masuk Festival Bon.
Jika sulit untuk menggunakan api, lentera Bon dinyalakan sebagai pengganti api penyambutan dan pengiriman.
Make your life a wonderful journey with HH Japanese tutors
Want to learn more about Japanese culture and useful Japanese phrases? Learn more efficiently and have more fun with HH's Japanese tutors. Try our free e-learning course today!
HH JapaNeeds
Your tutor. Your time. Your location.
https://hh-japaneeds.com/