Not many Japanese know that "O-fudo-san" means Fudo Myoo. In general, many people may only have an image of Fudo Myoo as having a scary face and being surrounded by red flames. In this page, we will look at Fudo Myoo and matters related to him.
What is "Ofudo-san"?
Ofudo-san" is a friendly term for "Fudo Myoo. Fudo-son" is an honorific title for Fudo Myoo, and "子" is an honorific title. Fudo Myoo is an object of Buddhist faith and is enshrined in many sects in Japan, including the Shingon, Tendai, Nichiren, and Zen sects.
First, let us look at Fudo Myoo.
What is Fudo Myoo?
Fudo Myoo is called "Achara Natha" in Sanskrit. Achara means "unmoving" and nāta means "guardian," while acala nāta means "unwavering guardian. It is also said to be an incarnation of Dainichi Nyorai, the central Myo-Oh of the Five Great Myo-Ohs. This "Myo-o" is the Buddha of esoteric Buddhism, also called "Dainichi Nyorai.
Myoo" is a title in esoteric Buddhism, and is understood to mean "a great person who has attained makoto (Buddhist wisdom). Fudo Myoo is also sometimes called "Mudo Myoo" or "Mudo Son.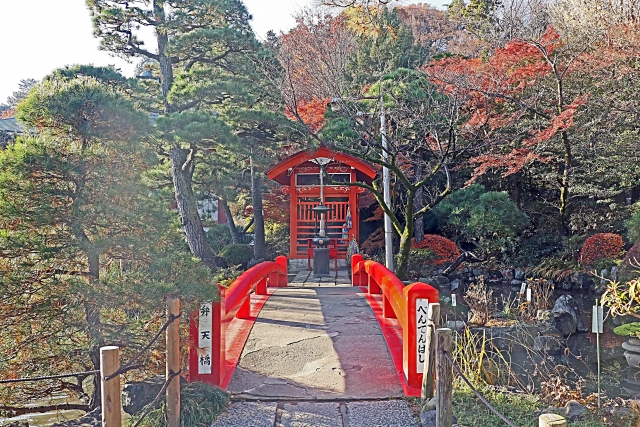 What are the Five Great Myoo?
Fudo Myoo is the central figure among the many Myoo's, and is the first among the Five Great Myoo's.
And the other members of the Godai Myoo are as follows
Gozanze Myo 降三世(ごうざんぜ )明王
Daiitoku Myo 大威徳(だいいとく)明王
Gundari Myo 軍荼利(ぐんだり)明王
Kongoyasha Myo 金剛夜叉(こんごうやしゃ)明王
When representing these Five Great Myoo's in a painting, Fudo Myoo should be placed in the center, with Kudanshita to the east, Daimeitoku to the west, Gundarashi to the south, and Vajrayakara to the north.
Appearance of Fudo Myoo
The basic style of Fudo Myoo is to hold a trident and a trap (kenjaku), with a flame called karura-en behind him. The trident is to ward off evil and cut off people's afflictions and causalities, and the snare is a rope to bind evil and deliver people caught up in afflictions.
The body is often blue-black in color, also known as "the color of dubu mud," which is said to represent the deliverance of people in the mud of vexations. His hair is curled back in anger and his vestments are tied with one sleeve torn off. Some Fudo Myoo statues are also accompanied by a retinue called the eight great children.
The most common are the three images of the eight Daidôji with Kongorikishi and Seiryûdôji as followers, called Fudô sanson-zo or Fudômyôôô Nidôshi-zo images. The other eight great Dons are named Anguita, Ugubaga, Eko, Shitoku, and Shojohi.
What is the origin of Fudo Myoo?
The most popular theory about the origin of Fudo Myoo is that it came from Shiva, the supreme deity of Hinduism. In Japan, it is said that Kobo Daishi/Kukai brought back statues and paintings of Fudo Myoo when he returned from Tang Dynasty China.
Vacations of Fudo-son
Fudo is open on the 28th of every month. January 28 and December 28 are "Hatsufudo" and "Nomefudo" days, respectively.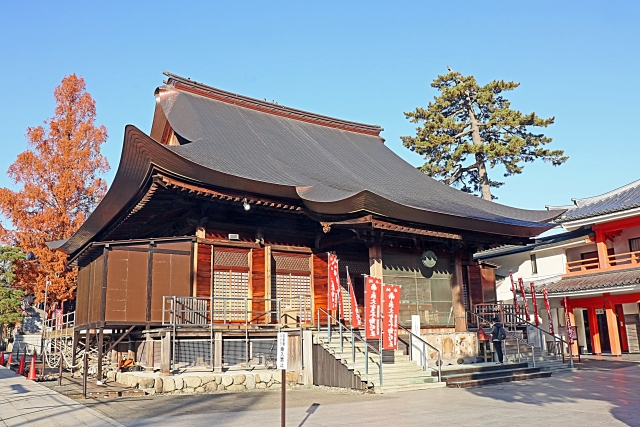 Fudo-san throughout Japan
The following is a partial list of Ofudo-san located throughout Japan.
Nakano Fudoson 中野(なかの)不動尊
Name of the temple. Nakanosan Taishoji Temple
Location: 28, Weirsaka, Nakano, Iizaka-cho, Fukushima City, Fukushima Prefecture
Chosei Fudoson 長生(ちょうせい)不動尊
Name of temple: Chosei Fudoson] Gyokiji Temple
Location: 1875 Shimonogo, Mutsusawa-cho, Chosei-gun, Chiba Prefecture
Fudogaoka Fudoson 不動ヶ岡(ふどうがおか)不動尊
Name of temple or shrine: Tamakusan Fudoin Sohonzan] Tamakusan Fudoin Soganjiten
Location] 2-9-18 Fudogaoka, Kazo City, Saitama Prefecture
Takayama Fudoin 高山(たかやま)不動尊
Temple Name] Takayama Fudoin Temple] Takayama Jorakuin Temple
Location] 346 Takayama, Hanno-shi, Saitama
Sayama Fudo 狭山(さやま)不動尊
Name of Temple] Sayama Fudo Temple
Location] 2214 Kamiyamaguchi, Tokorozawashi, Saitama
Chiba Yakuyaku-yoke Fudo-son (Fudo for Evacuation from Evil)  千葉厄除け(ちばやくよけ)不動尊
Temple Name] Myosenji Temple
Location] 13 Nakano-cho, Wakaba-ku, Chiba-shi, Chiba
Meguro Fudotaki Waterfall 目黒(めぐろ)不動尊瀧
Name of temple or shrine: Meguro Fudotaki] Taeyama Takienji Temple
Location: 3-20-26 Shimomeguro, Meguro-ku, Tokyo
Yagenbori Fudoin (Yagenbori Fudoin)  薬研堀(やげんぼり)不動院
Name of Temple] Kawasaki Daishi Hirama Temple, Tokyo Branch Kawasakidaishi Hirama Temple
Location] 2-6-8 Higashi Nihonbashi, Chuo-ku, Tokyo
Takahata Fudoin高幡(たかはた)不動尊
Name of Temple] Takawata Fudoin Temple Name] Kongoji Temple, Mt.
Location] 733, Takahata, Hino-shi, Tokyo
Tobifudo 飛(とび)不動尊
Name of temple: Ryukozan Santokuji Temple, Shohoin
Location] 3-11-11 Ryusen, Taito-ku, Tokyo
Conclusion
Fudo Myoo is believed to be an incarnation of a Buddha named Dainichi Nyorai. Dainichi Nyorai is a Buddha strongly believed in esoteric Buddhism. Dainichi Nyorai is a Buddha strongly believed in esoteric Buddhism and is regarded as the highest Buddha in the universe.
In esoteric Buddhism, the teachings inherited from Dainichi Nyorai are strictly transmitted from master to disciple, and O-fudo-sama, an incarnation of Dainichi Nyorai, is also traditionally believed in.
O-fudo-san is a friendly term for Fudo Myoo.
Fudo Myoo is the central Myoo of the Five Great Myoo.
Fudo Myoo is equipped with a trident, a snare, and a katarouen.
Fudo Myoo is opened on the 28th of each month, with the first Fudo on January 28 and the last Fudo on December 28 of each year.
Make your life a wonderful journey with HH Japanese tutors
Want to learn more about Japanese culture and useful Japanese phrases? Learn more efficiently and have more fun with HH's Japanese tutors. Try our free e-learning course today!
HH JapaNeeds
Your tutor. Your time. Your location.
https://hh-japaneeds.com/