Baseball and soccer are two of the most popular of the various professional sports played in Japan.
When you visit Japan on vacation or business, you may find a game being played in a nearby dome or stadium.
Games of popular teams often score a lot of points due to their strength, and there is a good chance that you will get excited.
In this article, we would like to explain such "popular soccer teams & baseball teams in Japan.
Popular Japanese Professional Baseball Teams
As of 2022, the greatest Japanese baseball player is "Shohei Ohtani," but unfortunately he plays in Major League Baseball in the United States.
However, the level of Japanese professional baseball is very high because of its No. 1 world ranking, and the domestic league is quite exciting every year.
There are 12 professional baseball teams, and here are some of the most popular teams. The
Hokkaido Nippon-Ham Fighters (Pacific League)
The Hokkaido Nippon-Ham Fighters is the team that Shohei Otani played for in Japan.
The team is based at the Sapporo Dome and is currently managed by Takeshi Shinjo, who has also played in Major League Baseball.
From 2006 to about 2016, the team was in its golden age, winning the Pacific League championship five times, but unfortunately, it is currently in the doldrums.
However, the team is gradually being rebuilt through the skill of manager Shinjo, who has an out-of-the-box personality, and promising young players such as Kiyomiya are developing.
The "Kitsune Dance" is currently the talk of the town, and has recently become a big hit at the ballpark.
If you actually go to a game, you will be able to enjoy the baseball game with a beer in your hand and the atmosphere of the stadium with the Kitsune Dance and other activities.
Yomiuri Giants (Central League)
The Yomiuri Giants are Japan's most popular professional baseball team, and they have always been at the top of their game.
The team won nine consecutive championships from 1965 to 1973.
The team's name and logo are said to have been inspired by the San Francisco Giants of Major League Baseball.
Hideki Matsui, who also played in Major League Baseball, was a member of this team.
Although the team's strength is slightly weakening at present, its capital strength should enable it to acquire talented players and return to being an all-time winning team again.
Since the Tokyo Dome is their home base, it is a good place to watch a game when you come to Tokyo for sightseeing or on business.
On weekends, the attendance exceeds 40,000 people, and even on weekdays, about 30,000 people gather to watch the game.
Hanshin Tigers (Central League)
The Hanshin Tigers is a professional baseball team based at Koshien Stadium in Nishinomiya City, Hyogo Prefecture.
The team has a long-standing rivalry with the Yomiuri Giants and is known for having a very large number of Kansai fans.
In recent years, the team has had many years of second and third place finishes, and has not won a championship since 2005.
The Hanshin Tigers' cheering song "Rokko Oroshi" is so famous that every fan can sing it.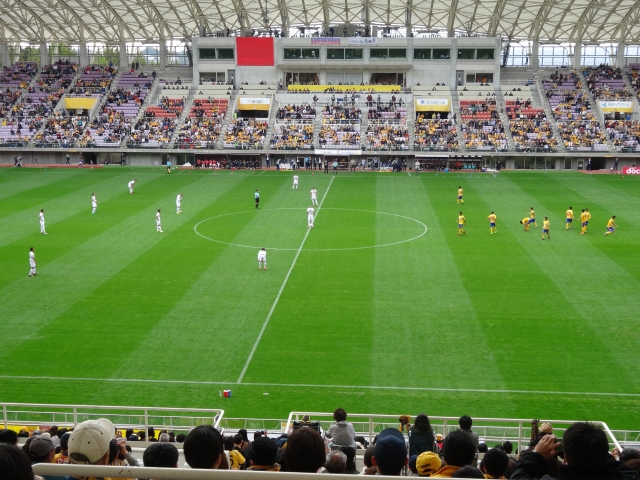 Popular Japanese Professional Soccer Teams
Japan's professional soccer league operates under the name "J-League.
The professional league consists of the top category "J1," the second division "J2," and even the third division "J3.
There are 18 teams in J1, but there are also several very popular teams.
Incidentally, Vissel Kobe, where world-famous player Andres Iniesta is a member, has many popular players, but we will not pick up the team because the team is currently in a very bad condition and is fighting relegation this season.
Urawa Reds
The Urawa Reds are a soccer team whose hometown is Saitama City, Saitama Prefecture, and their home stadium is Saitama Stadium, which has a seating capacity of over 60,000.
The Urawa Reds were a perennial bottom-ranked team when the J-League was first established, but with the help of their powerful sponsors, they gradually improved their team strength and are now a strong team that has won the Asian Champions League twice.
The team is very passionate about its supporters and attracts more than 20,000 spectators to every game.
There are many teams in the world called "Red Devils," and the Urawa Reds is one of them.
At home matches, the stands are dyed bright red.
Kawasaki Frontale
Kawasaki Frontale is the strongest and most popular team in the last decade.
Their clean, rhythmic passing soccer is quite interesting to watch, almost as if you were watching Barcelona.
Kawasaki Frontale is a very nurturing club that has developed many young players into first-class players and sent them off to overseas clubs.
The current Japanese national team always includes 6-7 former and current Frontale players.
The club is also known for its good management, and frequently organizes projects to please the fans.
Before the spread of the new coronavirus, the attendance at every game was over 20,000. (In 2022, it is much more back to normal, averaging about 17,000).
Conclusion
In this article, we have explained about "popular soccer & baseball teams in Japan.
If you are a baseball or soccer fan, why not go see a game of a popular professional team when you visit Japan?
Different countries have different excitement levels, so you will surely be able to watch the games with a fresh feeling.