Many people may think of Sasebo when they think of gourmet food such as "Sasebo burgers" and "lemon steaks," but it is also a "city with a large foreign population.
It is also the city with the second largest population of foreigners in Nagasaki Prefecture, after Nagasaki City.
In addition, about 7,000 Americans stationed at the Sasebo Air Base and their families, who are not counted as residents, reside in the city.
It is a very attractive city with a mix of Japanese and American cultures.
In this article, we would like to explain the charm of the city of Sasebo.
What kind of city is Sasebo?
Sasebo is a city rich in nature located in the northern part of Nagasaki Prefecture.
It is famous for Kujuku Islands, an archipelago of rias coastlines, and its cosmopolitan port city.
Sasebo has a population of approximately 240,000, making it the second largest city in Nagasaki Prefecture after Nagasaki City with approximately 400,000 residents.
The city is home to the Sasebo Air Base, where part of the U.S. Navy's Pacific Fleet's Seventh Fleet is stationed.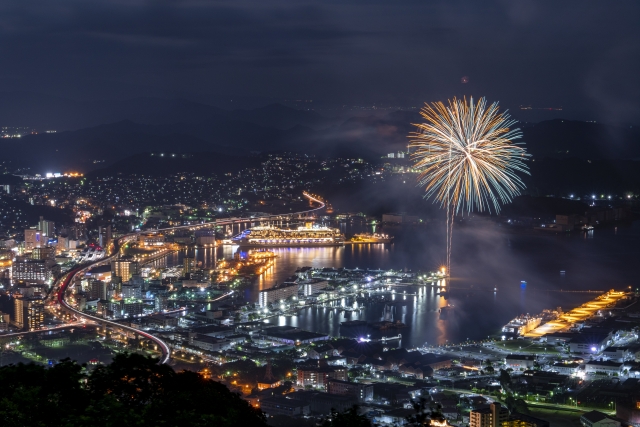 Attractions of the City of Sasebo
Sasebo, with its large population of foreign residents, is filled with a variety of attractions.
Let us introduce some of them.
Rooted in American culture
Sasebo's unique culture, which is different from other Japanese cities, developed due to the presence of the U.S. military base in Sasebo.
Jazz cafes, jazz festivals, foreign bars, Sasebo burgers, lemon steaks, etc. mix with Japanese culture to create a unique city atmosphere.
The Sasebo Burger is especially recommended.
The Sasebo Burger, with meat, egg, bacon, cheese, lettuce, tomato, and homemade mayonnaise between the board figures, is an excellent choice.
Since the burger is made to order, it tastes fresh and tasty, not like leftovers.
The lemon steak is another gourmet dish that you should try at least once, as it is unique to Sasebo.
Steak has the characteristic of being fatty, but by adding lemon juice to the Japanese sauce and pouring it over the meat just before it is cooked, it becomes refreshing and delicious.
In addition, Sasebo celebrates America's Independence Day (July 4) with a fireworks display.
In addition, the "American Festival in Sasebo" is held in the summer, allowing visitors to fully experience the United States.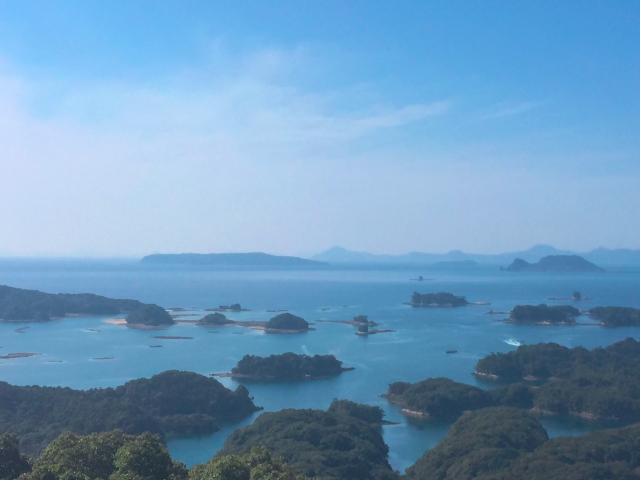 A culture that embraces diversity
Sasebo is a city where American culture has greatly influenced Japanese culture, and it has a climate that is open to new things.
As a result, the people of Sasebo are friendly and welcoming to both foreign and Japanese immigrants.
The people living in Sasebo are generally open-minded.
In fact, periods such as the "Nishi-Kyushu Sasebo Emigration Support Plaza" have been established to provide full support to emigrants.
Many Attractive Tourist Attractions
First of all, Sasebo has many tourist attractions.
Sasebo itself, with its strong American culture, is also a tourist destination, but there is also "Huis Ten Bosch" and "Kujuku Islands," one of the most beautiful bays and numerous small islands in the world.
Huis Ten Bosch boasts an area 1.5 times the size of Disneyland, with streets reminiscent of the Netherlands, beautiful flowers, beautiful illuminations, and delicious food.
Kujuukushima is home to the Kujuukushima Pearl Sea Resort, where visitors can enjoy various marine leisure activities, cruising, and an aquarium.
There are also various other tourist attractions such as "Miyajitake Shrine," "Tenkaiho," "Saikai Bridge," "Ohama Beach," "JMSDF Sasebo Historical Museum," and "Sasebo Morning Market.
Mild Climate
The "climate" of the area is a concern for those who move to the area.
If it rains a lot or the temperature is extremely high (or low), it will be difficult to live comfortably.
In this sense, Sasebo is the perfect place to live.
Sasebo has a large number of days other than extremely hot days (midsummer) and extremely cold days (winter). (It ranks 5th in the nation).
The mild and moderate climate can be directly translated into "ease of living.
Public Safety
In areas where there are U.S. military bases, and the city is international environment.
Crime is very low in the city of Sasebo, with the third lowest crime rate in Japan.
It is a safe city for families with children and wives.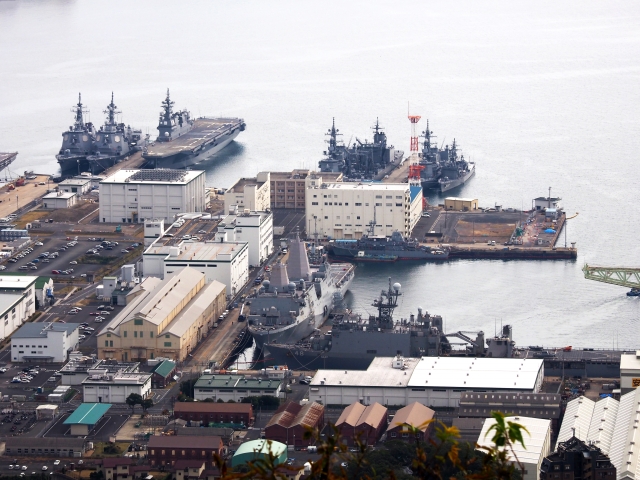 The longest shopping arcade in Japan
Sasebo has one thing that is the best in Japan.
It is the longest shopping arcade in Japan.
The longest shopping arcade in Japan is the Tenjinbashi Shopping Arcade in Osaka, but it is not strictly connected to the other arcade because of the roof break.
Sasebo's "Saruku City 4 0 3 Arcade" is "the longest in Japan" because it is a shopping arcade with a straight line of about 1 km and roofs that are connected.
About 160 stores line the street, where visitors can enjoy shopping and dining.
The streets are wide, so you can enjoy a leisurely stroll.
Conclusion
In this article, we have explained the "charm of the city of Sasebo.
Sasebo is a charming city with a mixture of American and Japanese cultures.
Since the city is proactive in accepting immigrants, those who move to Sasebo in the future will be able to live comfortably and happily in Sasebo.