Japan is a country where typhoons make landfall many times each year and earthquakes occur frequently.
Although Japan is a country with strong buildings and very proactive disaster preparedness measures, it can be helpless in the face of the forces of nature.
If you are going to stay in Japan for an extended period of time, you should prepare a "disaster prevention kit" in case a disaster strikes and your home's lifelines are cut off.
Some people may say, "I don't really know what kind of emergency supplies I should have."
There may be such people.
In this article, we would like to explain the "disaster prevention goods" that you should prepare if you are planning to stay in Japan for a long period of time.
Disaster Preparedness Goods You Should Prepare
Disaster prevention goods can help you survive for a while in the event that lifelines such as electricity, gas, and water are cut off by a typhoon or earthquake, or if you are injured by falling furniture or broken window glass.
Although it may cost a certain amount of money, you should definitely prepare them as soon as possible, as the presence or absence of disaster prevention goods may determine your fate.
Let us list some of the most important countermeasure goods.
Drinking water
Water is essential for human survival.
In Japan, 2-liter plastic bottles are the norm, so stock up according to the number of people in your family.
It is also a GOOD idea to prepare 500ml mineral water for carrying out in a backpack.
Food
If lifelines are cut off, refrigerators for storing food will not function.
Also, depending on the timing, you may not have much food at home.
For such cases, you should prepare a certain amount of preserved food that has a long shelf life and does not require cooking.
Keep some in your backpack along with 500ml of mineral water.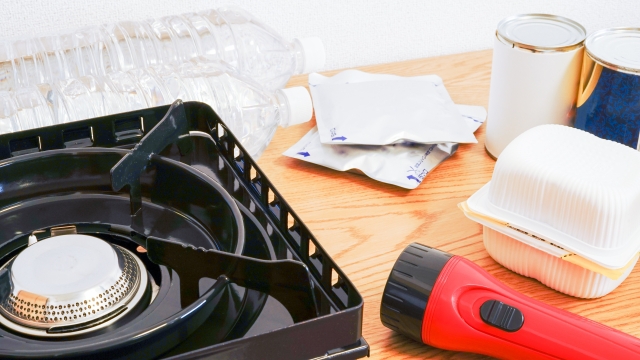 Flashlight & Radio
Disasters do not always occur during the daytime.
Depending on the time of year, half of the day may be sunless, so a flashlight is essential.
You should also have a radio to check the scale of the disaster and the situation.
Recently, there are many products available that combine a light and a radio in one unit, so be sure to have one in the house.
Hygiene and sanitary items
If you are unable to leave your home for several days or have to live in an evacuation shelter, hygiene and sanitary supplies will be essential.
Many people prepare water, food, flashlights, etc., as they are standard disaster preparedness items, but surprisingly, some people are not aware of sanitary and hygiene products.
Be sure to prepare enough supplies to last at least two to three days.
Medicine, bandages, etc.
If a shelf in your home falls or a window breaks during a typhoon or earthquake, you may be injured.
Gauze, bandages, and antiseptic solutions that can be used for first aid in such cases will be very useful, so be sure to prepare these items.
Also, those with pre-existing medical conditions should be sure to keep medicines in their backpacks (check expiration dates frequently), and it may be a good idea to include painkillers and other medications as well.
Valuables and certificates
In order not to be in trouble if you have to live in an evacuation shelter, you should also put a copy of your ID or health insurance card and some amount of cash in your backpack.
Portable power supply
In recent years, many "portable power supplies" have become available in Japan through online stores and home centers.
Even a small-sized portable power supply can charge a smartphone, and a large-capacity portable power supply can be used for several electrical appliances.
The portable power supply itself can also be charged from a car's cigarette lighter socket (as long as the car has fuel), which should be very useful in times of disaster.
Underwear
It is indeed difficult to stuff clothes into a backpack, but underwear and underwear should be able to be stored in a backpack.
Clothes and pants can be worn for several days if you are patient, but underwear and underwear are not so easy.
Putting even two pairs of underwear in your backpack will give you a sense of security.
Cassette stove and gas can
Although you cannot keep them in your backpack, a cassette stove and a gas can are useful to have at home.
If you have these items, you will be able to boil water and cook food in the refrigerator before it spoils, even if the gas in your house stops.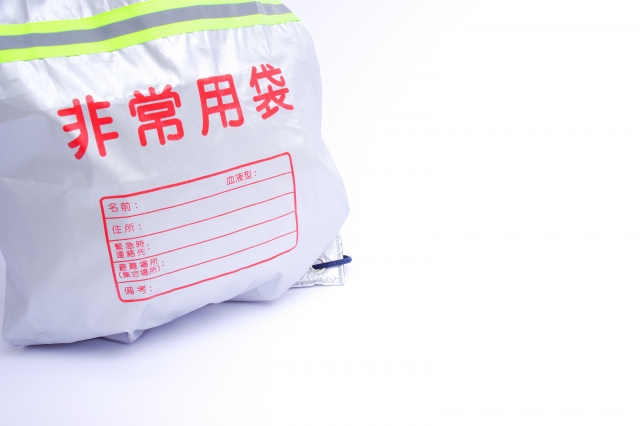 Aluminum sheets, rain ponchos, body warmers, etc.
If you suffer from a disaster in winter, you will have to live with temperatures below 0°C in the mornings and evenings.
If you are at home, you can cope by covering yourself with blankets, but it is a good idea to prepare aluminum sheets to ease the cold in case you cannot cope with such a situation.
A rain poncho will also be useful if it is raining, and it is also a good idea to have a warming circuit in your backpack.
Disaster prevention backpack sets are available for sale.
It would be troublesome to prepare the disaster prevention goods mentioned above one by one.
For such people, it is recommended to purchase a "disaster prevention backpack set" sold on the Internet.
Items supervised by disaster prevention experts are sold for each number of people, so you can purchase the product that best suits your needs.
Conclusion
In this article, we have explained about "disaster prevention goods" that you should prepare if you are going to stay in Japan for a long period of time.
Japanese buildings are built very sturdy, but the forces of nature are powerful.
Be sure to prepare the disaster prevention items listed here to be prepared in case of an emergency.