On cold days, the pot is great for warming your mind and body. Here are some of the most popular varieties in Japan.
Gathering around a steaming pot is a classic way to prevent winter blue in Japan.
The pot is placed on a portable heat source (usually a gas cartridge stove) on the dining table. When the kelp soup stock and water are boiling, add ingredients such as seafood, meat, tofu, and vegetables. When the pot is boiling, transfer the food cooked with chopsticks to your bowl and add seasonings such as soy sauce, miso and sesame sauce, and citrus ponzu sauce. Pots that are easy to make and can be adapted to personal tastes and numbers are very popular.
Some varieties, such as mizutaki and fugu pots, are usually served by cooking in a glazed clay pot. This means a longer cooking process, but these containers have excellent heat retention and are ideal for this dish.
Other types are prepared in iron or stainless steel containers. An iron pot with excellent heat conduction is used for sukiyaki. The shabu-shabu specialty pot is round and has a chimney-like protrusion from the center. The built-in pot can be served in a shallow stainless steel pot.
There are many local varieties of local tasting pots. For example, in Ishikari Nabe in Hokkaido, salmon lumps are the main feature, but in Yamagata prefecture, taro and beef are popular, and in Ibaraki prefecture, anglerfish is a common ingredient. Seasonings may also have their own twist. Supermarkets currently sell a variety of instant pot sauces and mixes.
In Japan, sharing food in the same pot is the old-fashioned way to get friends, family and colleagues to communicate and enjoy. When the main ingredients are finished, mix rice and eggs with the rest of the soup to make porridge or add noodles.
Read the list of nine pots, from traditional favorites to relatively recent works.
Cooked in water 水炊き
Fukuoka's local cuisine in Kyushu, which is gaining popularity nationwide, has a hearty pot full of bone-in chicken and vegetables. Since the chicken is stewed for a long time, it becomes a delicious and unique white soup.
Sukiyaki すき焼き
Salty sukiyaki is a slice of beef cooked with Chinese cabbage, green onions, garland chrysanthemum, and shirataki noodles. It is seasoned with sauce using sugar, soy sauce, and mirin. Ingredients are usually soaked in raw beaten eggs before eating.
Soy milk pot 豆乳鍋
A relatively newcomer, he combines traditional soup stock with soy milk to give meat, seafood and vegetables a delicate flavor. For those who like spices, chili oil and savory yuzu pepper are a good offset to the main soup.
Built-in pot 内臓鍋
In postwar Fukuoka, pork guts and Chinese chive soy sauce became popular dishes. Nowadays, it is seasoned with miso and salt all over Japan and may be included in it. It usually contains cabbage and garlic, but if you need a little heat you can add pepper.
キムチ鍋
A variation of a hot pot imported from neighboring South Korea that warms the body in winter with bright red pepper. Add pork, green onions, Chinese cabbage, tofu, etc. to the meat-flavored dashi base. Flavors of soy sauce, garlic, salt and pepper.
Ishikari pot 石狩鍋
It is a dish from the Ishikari area of Hokkaido, just north of Sapporo, which is famous for its seasonal salmon runs. Mix salmon chunks, vegetables and tofu in miso soup stock. Sprinkle with Japanese pepper before eating to add a savory taste.
Oyster dotenabe 牡蠣ドテナベ
A Hiroshima specialty made from local oysters, it features a miso ring that rises like a dike on the edge of the pot. A glass of tofu and vegetables. Push down the miso and mix it in a pan to adjust the taste.
Shabu-shabu しゃぶしゃぶ
To eat shabu-shabu, dip thinly sliced beef or pork in boiling water and soak in your favorite sauce such as sesame or ponzu sauce. Vegetables and tofu support it, but meat is the main ingredient.
Simmered tofu 湯豆腐
Yudofu is simple and basically consists of kelp soup stock. Popular dip sauces are soy sauce and ponzu sauce. Diner usually adds flavors such as green onion, yuzu, grated radish (optionally mixed with red pepper), or dried bonito flakes.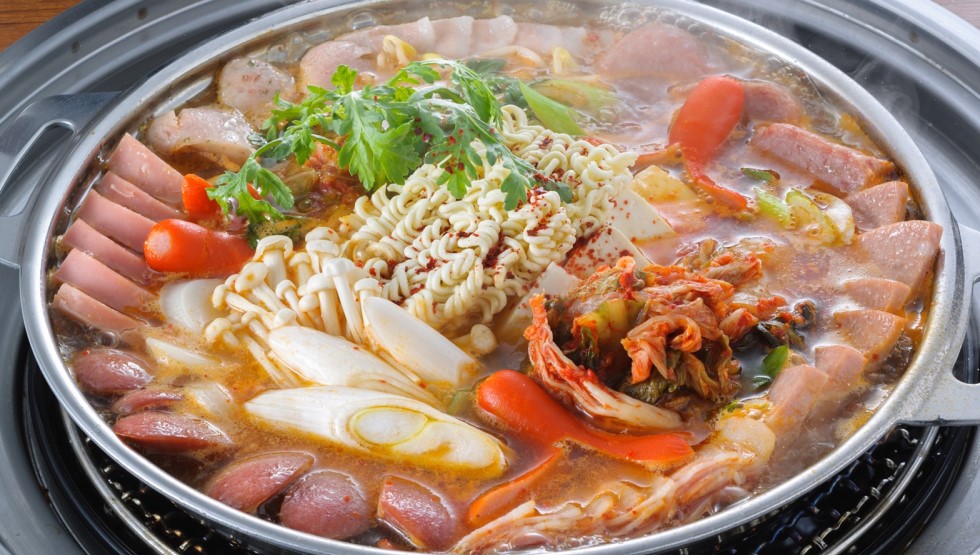 鍋
ぶんか
寒い日には、心も体も温まるお鍋がいいですね。ここでは、日本で人気のある種類をご紹介します。
蒸し鍋を囲んで集うのは、日本の冬の青春対策の定番です。
こちらのリンクに鍋の作り方が紹介されています。
食卓の上にある携帯用の熱源(通常はガスカートリッジ式のコンロ)の上に鍋を置きます。昆布の出汁と水が沸騰したら、魚介類や肉、豆腐、野菜などの具材を入れます。鍋が沸騰したら、箸で調理した食材を器に移し、醤油や味噌・ごまだれ、柑橘系のポン酢などの調味料を加えます。手軽に作れて、個人の好みや数に合わせられる鍋が人気です。
水炊きやふぐ鍋など、種類によっては釉薬をかけた土鍋で調理して提供するのが一般的です。そのため調理時間は長くなりますが、保温性に優れているので、この料理には最適です。
その他、鉄製やステンレス製の容器で調理するタイプもあります。すき焼きには熱伝導に優れた鉄鍋が使われます。しゃぶしゃぶ専門の鍋は丸い形をしていて、中央からチムニーのような出っ張りがあります。内蔵されている鍋は、浅めのステンレス鍋でも提供できます。
ご当地の味鍋には、地域によって様々な種類があります。例えば、北海道の石狩鍋では鮭の塊が主役ですが、山形県では里芋や牛肉、茨城県ではアンコウなどが人気です。調味料にも独自の工夫があるかもしれません。現在、スーパーではインスタント鍋用のソースやミックスなどが販売されています。
日本では、同じ鍋で料理をシェアして楽しむのが、友人や家族、同僚とのコミュニケーションの場として昔から親しまれてきました。メインの具材が終わったら、残りのスープにご飯と卵を混ぜておかゆにしたり、麺類を加えたりして、お好みの料理を作ってみてはいかがでしょうか。
伝統的なお気に入りから比較的最近の作品まで、9つの鍋のリストを読んでみてください。
水炊き
全国的に人気が高まっている九州の福岡の郷土料理は、骨付き鶏肉と野菜がたっぷり入ったボリューム満点の鍋。鶏肉を長時間煮込んでいるので、独特の白いスープになります。
内蔵鍋
戦後の福岡では、豚ガツオやチャイニーズ醤油が人気の料理になりました。今では全国各地で味噌や塩で味付けされていて、それに含まれていることもあります。通常はキャベツとニンニクが入っていますが、少し熱が必要な場合は胡椒を加えても良いでしょう。
キムチ鍋
お隣の韓国から輸入した鍋のバリエーションで、冬には鮮やかな赤唐辛子が体を温めてくれます。肉味の出汁ベースに豚肉、ネギ、白菜、豆腐などを加えて。醤油、ニンニク、塩、胡椒の風味。
すき焼き
塩味すき焼きは、白菜、青ネギ、春菊、しらたき麺で煮込んだ牛肉の一切れです。砂糖、醤油、みりんを使ったタレで味付けされています。具材は生の溶き卵に浸してから食べるのが一般的です。
豆乳鍋
比較的新参者の彼は、伝統的な出汁に豆乳を組み合わせ、肉や魚介類、野菜に繊細な味わいを与えています。香辛料が好きな人には、チリオイルと香ばしい柚子胡椒がメインのスープとの相性が良い。
石狩鍋
旬の鮭の遡上で有名な札幌のすぐ北、北海道の石狩地方の料理です。味噌汁の出汁に鮭のかたまり、野菜、豆腐を混ぜ合わせます。食べる前に山椒をふると香ばしい味になります。
牡蠣ドテナベ
地元産の牡蠣を使った広島名物で、鍋の縁に堤防のように盛り上がった味噌のリングが特徴。豆腐と野菜を入れて一杯。味噌を押し下げて鍋で混ぜて味を調整します。
しゃぶしゃぶ
しゃぶしゃぶの食べ方は、薄切りにした牛肉や豚肉を熱湯につけて、ゴマだれやポン酢などお好みのタレに浸して食べます。野菜や豆腐がサポートしてくれますが、肉が主役です。
湯豆腐
湯豆腐はシンプルで、基本的には昆布の出汁で構成されています。一般的には醤油やポン酢などのディップソースが一般的である。ネギ、柚子、大根おろし(赤唐辛子を混ぜたものもある)、鰹節などで味付けをするのが一般的。
HH JapaNeeds
Your tutor. Your time. Your location.
https://hh-japaneeds.com/