While the way of thinking differs greatly from country to country, there are also rules unique to Japan in job hunting.
In particular, there are unusual rules for interviews, which have a major impact on whether or not you will be hired.
Many companies place great importance on business etiquette, and this is also true for interviews with non-Japanese candidates.
In this article, we would like to explain how to conduct such interviews at Japanese companies.
How to Interview at Japanese Companies
If you have not been in Japan that long, you may be wondering, "What things should I pay attention to when job hunting in Japan?"
In Japan, companies also conduct interviews after screening your application. During the interview, you will be asked to present yourself, and at the same time, you will be checked to see if you have mastered business etiquette in Japan.
Let's look at some specific interview rules.
Clothing
In order to be interviewed, you must first be dressed to interview specifications.
In Japan, you can wear plain clothes for part-time job interviews, but for job interviews, you must "wear a suit".
For new graduates, a recruit suit must be worn; for mid-career job interviews, a plain suit must be worn.
For women, skirt suits as well as pants suits are acceptable.
The suit should fit the body shape.
Colors should not be too flashy.
The suit should be free of stains and wrinkles.
Please keep these points in mind.
It is also important to be conscious of cleanliness when interviewing in Japan, such as shaving your beard and setting your hair style.
If you are wearing a hat or coat, take them off before going to the reception desk.
How to Enter the Interview Room
When entering the interview room, knock three times. When you are asked to come in, open the door from the inside saying, "Excuse me. (Shitsureishimasu 失礼します)" turn your body toward the door, and close the door quietly.
Then, instead of immediately moving to a chair, say at the door, "My name is XX. Pleased to meet you. ○○と申します。本日はよろしくお願いします"
Sitting and posture during the interview
Once you move to the front of the will, the interviewer will ask you to sit down, but be sure to say, "Excuse me. (Shitsureishimasu 失礼します)" before taking your seat.
At this time, leave your bag by your chair.
It is even better if the interviewer has the line, "Thank you for your time today. (本日はお時間をいただきありがとうございます。よろしくお願いいたします)"
During the interview, sit with a straight back and do not lean on the backrest. Do not cross or spread your legs. Keep your hands in your lap and answer the interviewer's questions.
Here are four manners that you should definitely pay attention to.
Do your homework on the company you are applying for.
Since this is a company you may work for in the future, it is the minimum etiquette to do some preliminary research on the company you are applying for. The "What do you know about us?" question is designed to find out how enthusiastic you are about the company.
In order to properly and effectively convey your personality, cooperation, and enthusiasm, it is most important to "prepare in advance" how you will answer the question.
Skills and experience cannot be acquired overnight, but enthusiasm, company knowledge, interview skills, and mannerisms can be developed in a short period of time.
Look the interviewer in the eye
You may think it is rude to look the interviewer in the eye. However, in the West, people who do not look the interviewer in the eye are perceived as untrustworthy. However, this does not mean that you must always stare into their eyes.
Be especially careful how you speak during an interview.
If you are not confident, you tend to lower your voice or speak too quickly. Even if your pronunciation is a little poor, if you speak slowly, clearly, and at a moderate volume, your words will be understood. Be confident in your speech, looking the other person in the face and keeping your chest out. It is important to practice the questions you will be asked in the interview, but don't memorize the answers.
Deliver a "message" to end the interview on a positive note.
It is common for an interview that was going well until the middle to be ruined by a bad impression at the end. When parting ways, you must always deliver a "message" that will leave a good impression on the interviewer. Simple "thank you", "I look forward to working with you", or any other positive words will do.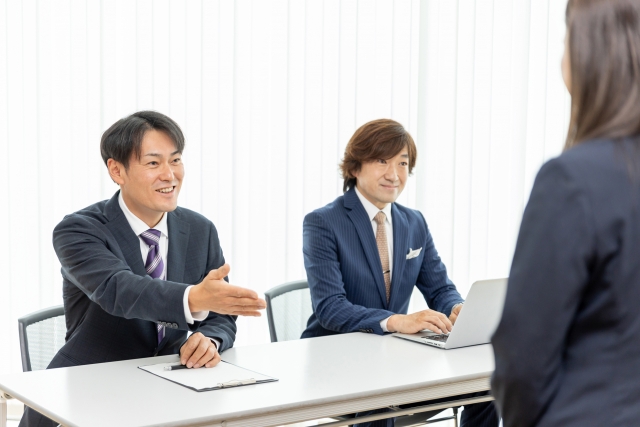 List of 10 Questions Frequently Asked in Interviews
You will most likely be asked about yourself, i.e., your qualities, personality, orientation, work perspective, etc. Let's take a look.
Q1: The office can be hard to find. Did you have any trouble?
(当社に来るまでに迷いませんでしたか?)
Not only yes or no, but it would be good if you could add a few words such as "The location was very easy to find" or "The map on the website was very clear.
Q2: Tell me about yourself?
自己紹介をしてください。
This is often the first question asked in most interviews. It is your chance to make a good impression on the interviewer. Don't make it too long or too short, but tell them about yourself in a logical manner.
Introduce yourself, but do not talk about where you are from, your family, hobbies, or other personal information. You are being asked about your job skills and experience.
When introducing yourself in an interview, be aware of S.E.D. S.E.D. is an acronym for three words: Skills, Experience, and Duration.
Skills → What skills did you have on the job?
Experience → What kind of work experience have you had?
Duration → How long have you been working?
At a minimum, these three points should be communicated in your self-introduction.
Q3: Why do you want to change jobs?
転職理由を教えてください。
This is not a difficult question, but you need to be creative in how you answer it. Negative topics about your current (previous) job are taboo. It is better to answer in a positive manner.
Q4: What are your strengths?
あなたの強み(長所)を教えてください。
This question is also asked at every interview. The key to stating your strengths is to not be too abstract. First, state what your strengths are, and then give examples of situations in which you can use those strengths and how they can be put to use.
Q5: How do you handle stress and pressure?
ストレスやプレッシャーにはどのように対応していますか?
How do you cope when things don't go your way at work? Who hasn't felt stress at work? What the interviewer wants to hear is How does stress affect you or how do you cope with stress? Be prepared to answer with specific examples.
Q6: Which was most / least rewarding?
どのようなときにやりがいを感じましたか?
やりがいを感じられないときは?
This is a rather difficult question. Talk about what you found challenging in relation to the position for which you are applying. It is important to be honest, but don't dare talk about things that relate to the responsibilities of the position you are applying for.
Q7: What was the biggest accomplishment
今まで達成した最大の業績を教えてください。
It is natural that the interviewer will want to know your greatest accomplishment. If possible, answer about your accomplishments in work related to the position for which you are applying. Also, provide specific examples in a polite, concise manner.
Q8: What are your goals for the future?
将来の目標を教えてください。
Where would you like to be in your career five years from now?
(あなたの描く5年後のキャリアはどのようなものですか?)
This is another frequently asked question: Do you have a career plan for 5 or 10 years from now? By confirming your career plan, we can determine if you are willing to work for the company you are applying for a long time.
Q9: What do you know about our company?
わが社について何を知っていますか?
This is a typical question often asked in interviews, not only with foreign companies. Unlike in the past, there are now many ways to research your target company. Please do your research before going for an interview.
Q10: Do you have any questions?
何か質問はありますか?
This is a question that is asked in every interview. Do your homework before going in for an interview and prepare at least two questions. In addition to the questions you have prepared, the author has had the experience of asking questions about topics that came up during the interview and were received very favorably.
Can you answer all of these with confidence? All questions are designed to get the interviewer to ask, "What do you want to know about this? If you can understand the interviewer's intentions, you can make the English interview a great opportunity to demonstrate your abilities.
Exit the room
Do not let your guard down after the interview is over.
The interviewer is checking to see if your business etiquette has been maintained throughout.
When the interview is over, say "Thank you for today. 本日は貴重なお時間をいただきましてありがとうございました" and bow in front of your chair.
At this point, thank the interviewer for giving you the opportunity to interview before leaving the room. Below is an exemplary way to say it.
It was a very nice talking with you.
お話しできてとても良かったです。
Thank you for giving me a chance to take an interview.
面接の機会をいただき、ありがとうございました。
Thank you for having me today.
本日はお呼びいただきましてありがとうございました。
It was a pleasure meeting with you.
お会いできて光栄でした。
Thank you for your time in meeting with me.
お時間を作っていただきありがとうございました。
I am looking forward to hearing from you.
ご連絡をお待ちしております。
When leaving the room, do not just walk out, but turn to the interviewer, say "Shitsureishimashita 失礼しました," open the door, and slowly close the door as you turn toward the room.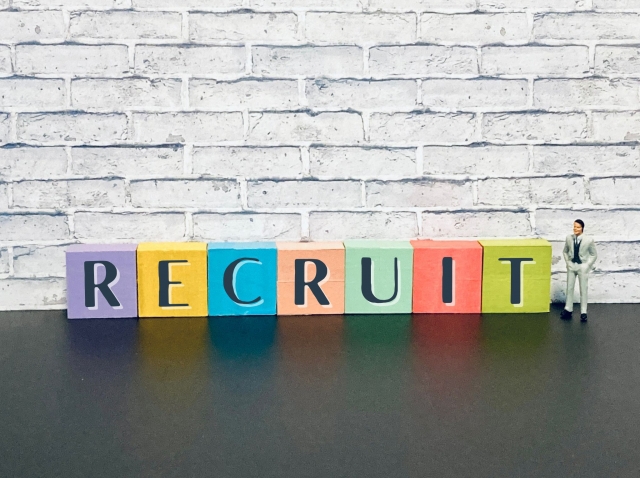 It is a GOOD idea to have answers ready for questions that foreigners may be asked!
When interviewing foreigners, there are questions that are often asked.
For example, "Why did you decide to work in Japan? or "What do you like about Japan?
You may also be asked about your visa status and reasons for coming to Japan.
It is a good idea to think of answers to these questions in advance.
At the end of the interview, you will be asked, "Do you have any questions? so be sure to ask at least one question about the company other than the employment conditions.
Answers that will make a good impression at a Japanese company
In Japan, being assertive is not as positive as it is in Western countries.
If anything, people tend to have a favorable impression of "modesty" and "sincerity.
Therefore, it is important to answer each question sincerely (without over-emphasizing) rather than over-emphasizing yourself during the interview.
In addition, foreign nationals tend to give the impression that they will not work for a long time. Foreign nationals also tend to give the impression that they will not work for a long time.
In this sense, if you can convey your intention to work for a long time, you should be able to make a very good impression.
Conclusion
In this article, I explained "how to conduct a job interview at a Japanese company.
Japanese job interviews have detailed rules, from entering the room to leaving the room, as well as dress and grooming.
By adhering to those minimum rules, you should be able to greatly improve your evaluation.
During the interview, your own potential and job skills are also being looked at. Please be aware of this and take sufficient time to prepare so that you can actively convey your attractiveness.
Make your life a wonderful journey with HH Japanese tutors
Want to learn more about Japanese culture and useful Japanese phrases? Learn more efficiently and have more fun with HH's Japanese tutors. Try our free e-learning course today!
HH JapaNeeds
Your tutor. Your time. Your location.
https://hh-japaneeds.com/